* ' Book REVIEW Competition ' - Humanities Week Journey 2
Wesley Methodist School Kuala Lumpur (Private)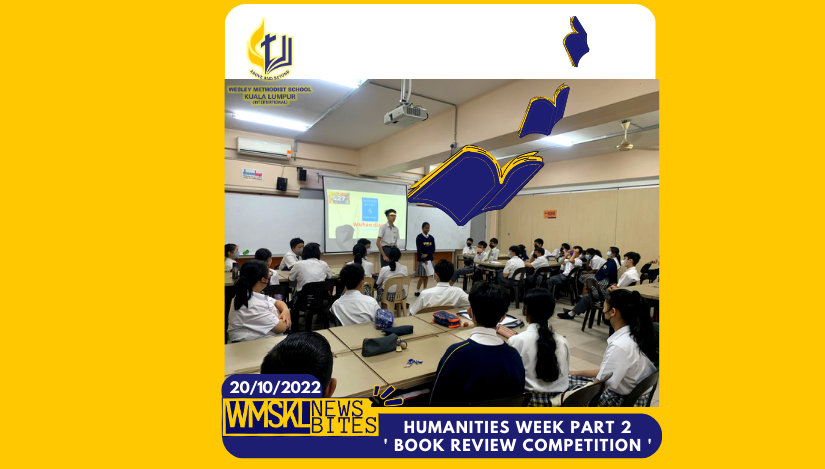 HUMANITIES WEEK JOURNEY 2
We read the world!
Humanities Week, 'Book Review Competition'
We read the world!
"Reading is an exercise in empathy; an exercise in walking in someone else's shoes for a while." – Malorie Blackman
One of the activities during the recent Humanities Week was a book review. Each sport house was given a book, and they had to work together to reel the audience in with their reflections on plot development, characterisation, setting, and the overall tone of the piece.
They painted images, asserted their opinions, and made their review personal without occluding the author's view.
Here are the books they read:
RED HOUSE – Life Without Limits by Nick Vujicic
YELLOW HOUSE – I Am Malala: The Story of the Girl Who Stood Up for Education and Was Shot by the Taliban by Malala Yousafzai, Christina Lamb
BLUE HOUSE – Wuhan Diary: Dispatches from the Original Epicenter by Fang Fang
GREEN HOUSE – Kim Jiyoung, Born in 1982 by Cho Nam-Joo
Brandon Ong Qi Jun from Red House won the audience and led his team to victory, while Yvette Lau Xin Yin from Yellow House came in second place.
CONGRATULATIONS!